We are teaming up with Age Scotland, Stewartry CVS, plus guest speakers from St James Place and Ian Bendall Funeral Directors to provide a free information event where people can find out more on how to start planning for some of those unexpected things in life & death through Power of Attorney, Wills, Tax Plan & Care Plan.
Joint Event between Hall Baird Solicitors, Age Scotland & Stewartry CVS
The event is on 26th April at the Gordon Memorial Hall, Castle Douglas from 2pm to 4pm has been prompted by a growing awareness that we don't talk about the difficult things enough.  Talking about ones death openly is not seen to be the 'done thing' or we presume that our loved ones know our wishes and will act on them but do they have the power to do so?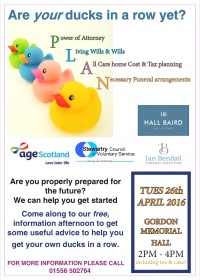 Topic Agenda & Speakers
"Afore ye go" – Age Scotland & SCVS – Introduction and overview of how Age Scotland & Stewartry CVS can help you by Ian Howie.
Don't Duck the Talk – Hall Baird Solicitors – Talking about Power of Attorney, Wills, Advance Directives & Care Costs by David Hall & Karen Baird.
IHT Planning Advice – St James' Place – Inheritance Tax & Financial planning advice with John Cameron.
Let Loved Ones Know – Ian Bendall Funeral Directors – The practical and financial benefits of discussing your funeral wishes with loved ones by Ian Bendall.
As solicitors we have assisted in many situations where we were required to help families through the generally lengthy and expensive process of sorting through relatives' affairs after they are incapacitated or passed away without any formal Power of Attorney or Will.
Rather than sit back and wait for a problem to arises we believe it's better to be proactive and encourage everyone to start talking now with family and formalise a Power of Attorney and Will at the earliest opportunity.